In 2018, I was excited to be chosen as a participant for Wide Open Walls, and was given some room to choose a location and theme. With organic images and Sacramento Pride in mind, Warren Brand awarded me the Visit Sacramento/Farm to Fork building to represent the capital of California. (For the previous introduction to this article go to loveponci.com/perspective/sacramento-mural-history)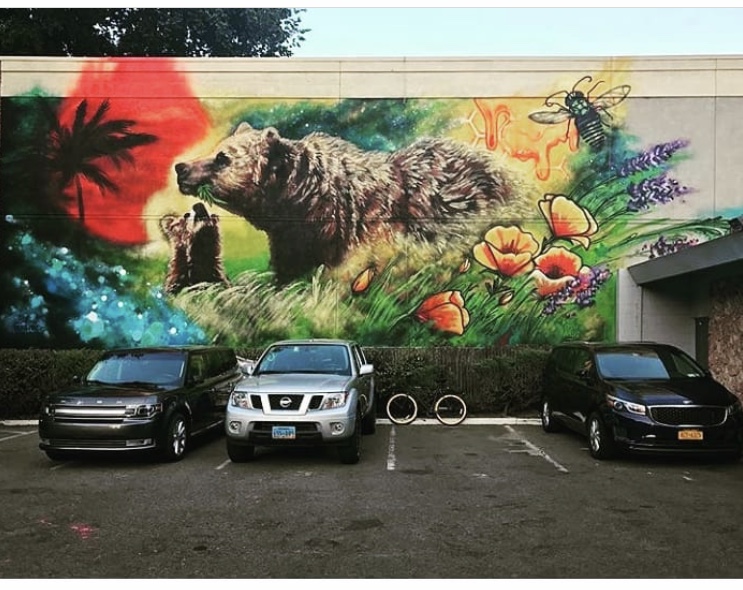 The California Grizzly Bear, or California Golden Bear, is California's State Flag icon and State Animal. She is shown here as an example of motherly love, holding grass for her hungry cub. Together they are framed in a circle, composed of a blazing red sun, the night sky, and local foliage. Redwood and Palm tree silhouettes contrast our red star, bordering a night sky. A honeycomb blends over the scene and frames the right, dripping towards Golden Poppies- our state flower, which is also known as the "flame flower" and "cup of gold". Alongside lavender they emerge from wheat fields that blow around the bears at the base of the frame. A queen honey bee flies from the poppies towards the honeycomb, while water splashes away from the grass, under the baby bear, leading the eye back to the trees.
The blazing sun looks almost as if the tree silhouettes are on fire, speaking to the importance of fire issues in California. Every summer the state lights up, losing an average of 158,460 acres a year, but in 2018 that number skyrocketed to 1,893,913 acres. This figure includes the Camp Fire in Paradise, the most catastrophic in California's history, which on November 8th, 2019 took the lives of 85 people. 91% of the town and 19,000 buildings were destroyed, including my home. I was lucky to get out alive. Yet I am only one of 52,000 displaced by the Camp Fire, and there were 7,500 fires in the state that same year. Fortunately, there are better ways to deal with these seemingly uncontrollable natural disasters.
Water conservation can help with fighting fires once they start, but prevention can help exponentially reduce losses of land, lives, and property. Responsibility from electric companies to maintain equipment, schedule and prepare residents for emergency power outages, and clear tree branches around power lines can help fires from starting. Personal responsibility when camping and disposing of cigarettes is important too. The biggest factor however seems to be the issue of global warming.
Preceding last fire season, the heightened/more extreme temperatures caused strange patterns in the weather for my area, creating a surge of new plant life to die off right before the windy fall season. This extra brush gave enough fuel to the fire in Paradise that the morning it hit, it was moving at a rate of 8 football fields per minute, barely giving residents time to evacuate. The effects of global warming also contribute to world-wide devastation through more frequent natural disasters, like hurricanes, droughts, floods, volcanos, earthquakes, and landslides. No area is protected from a natural catastrophe, making it everyone's responsibility to lower our collective carbon footprint.
Looking past the Sun at the main focus of the mural is the California Grizzly Bear. This beloved state symbol has been extinct since sometime between the years 1922-1924, due to the introduction of the revolving rifle in 1848 when the California Gold Rush began. There is current debate about genetically engineering the animal to reintroduce into the wild. Telegraph Hiking Club doesn't see the need for 8′, 1200 lb. meat-eaters on the hiking trails, but there is a more imminent issue to turn our attention to.
The queen honey bee represented in the top right corner contributes to production of 1/3 of all food we consume. Currently this species is threatened, and so is the world's agriculture. In America, California leads the nation in production of fruit, vegetables, wine and nuts. Agriculture is our state's largest industry. If we lose the honey bee, food production and the economy will suffer.
There are some solutions to prevent this. Becoming a beekeeper and increasing native foliage are a couple. Pesticide and insecticide testing and regulation is encouraged, as well as using alternatives to fight pests, like ladybugs and aphids. Circling back to wildfires, the shifting temperatures are also affecting our agriculture, causing less seasonal migration. The rapid changes caused by global warming also cause disease, and throw off the honey bee's pollination schedule, both decreasing overall health of the species, and reducing the population.
Solutions to man-made climate change are readily available online. Doing as much as an individual can to lower their carbon footprint is important, including public transportation and bicycling, unplugging unused devices and using solar power. Paying attention to resources we use, or waste, using less packaging, turning lights off when they're not in use, and buying energy saving bubs and appliances. Moving closer to work, driving electric and hybrid cars, vegetarian diets, purchasing local, and supporting farmers markets all help. Planting trees and allowing advanced, cleaner technology to become popular and marketed, despite the hit on the profits of fossil fuel industries. Perhaps clean energy advocates and the fossil fuel industry could meet in the middle and market the more advanced energy sources to continue generating revenue. Personal sacrifices, like having one or less children per couple, would significantly help the overpopulation, on a planet clearly fighting back against the exhaustion of our resources. Supporting planned parenting in the less educated and poor corners of the world would make a crucial impact for the next generation.
I hope this Visit Sacramento mural inspires positive change. While raising awareness of global warming solutions, we can prevent catastrophic natural disasters. Collectively, we can also save a species that's essential to sustaining America's Farm to Fork Capital from extinction. Starting with spreading facts and helpful ideas, and making small adjustments in our lives we can lead to worldwide improvements.
This painting was completed over a ten day period in August, 2018 for the annual Wide Open Walls mural festival. It was an honor to be chosen for this project among so many talented applicants internationally. Designed for the Visit Sacramento and Farm to Fork building, the subject of a California mural was very meaningful to me. It can be viewed in the Avis parking lot at the corner of 16th and I streets downtown, across from the memorial auditorium at 1601 I Street, Sacramento, California 95814.
About the festival: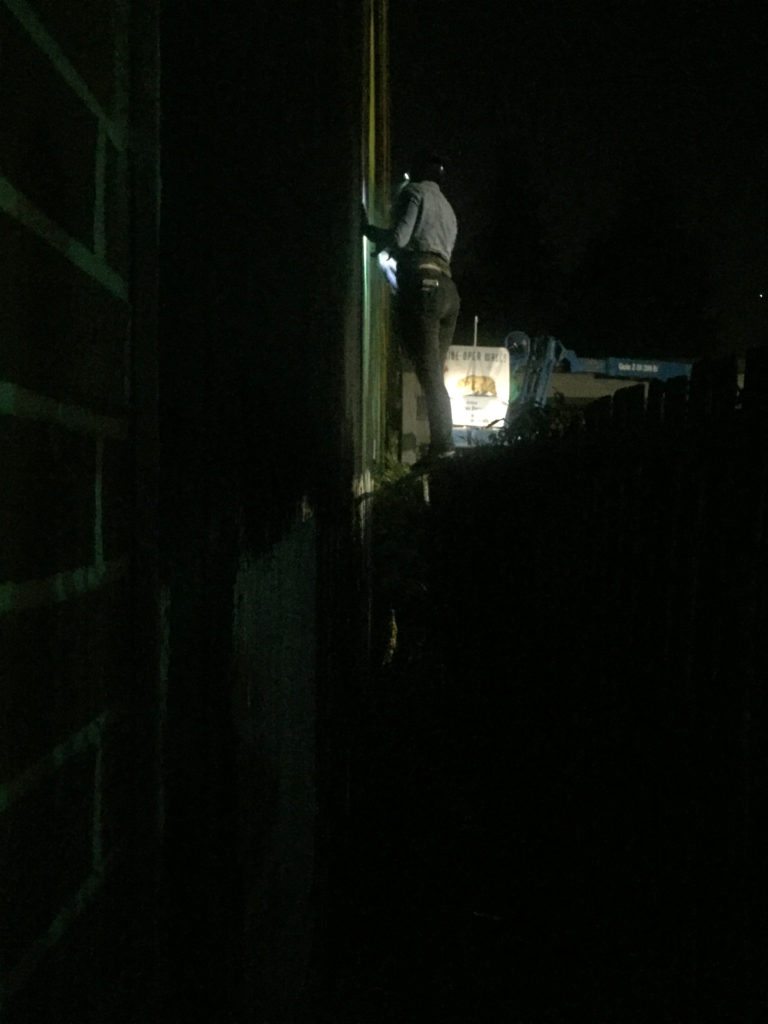 This was completed mostly throughout the night to avoid the 103 degree summer heat and constant tour discussions during a 10-day time crunch… while making a daily 2 hour commute from home. However, some daylight hours were necessary, and the conversations we always uplifting.
Kate Gonzales even came out for a Capitol Public Radio interview, Featuring David Sobon.
After one last night painting past sunrise, friends and acquaintances in the community joined us to celebrate the completion of this awesome mural and 'Busking Sunday' by Wide Open Walls, which was something most people didn't know the definition of.
busk1
bəsk/
verb
gerund or present participle: busking
play music or otherwise perform for voluntary donations in the street or in subways.
"the group began by busking on Philadelphia sidewalks"
improvise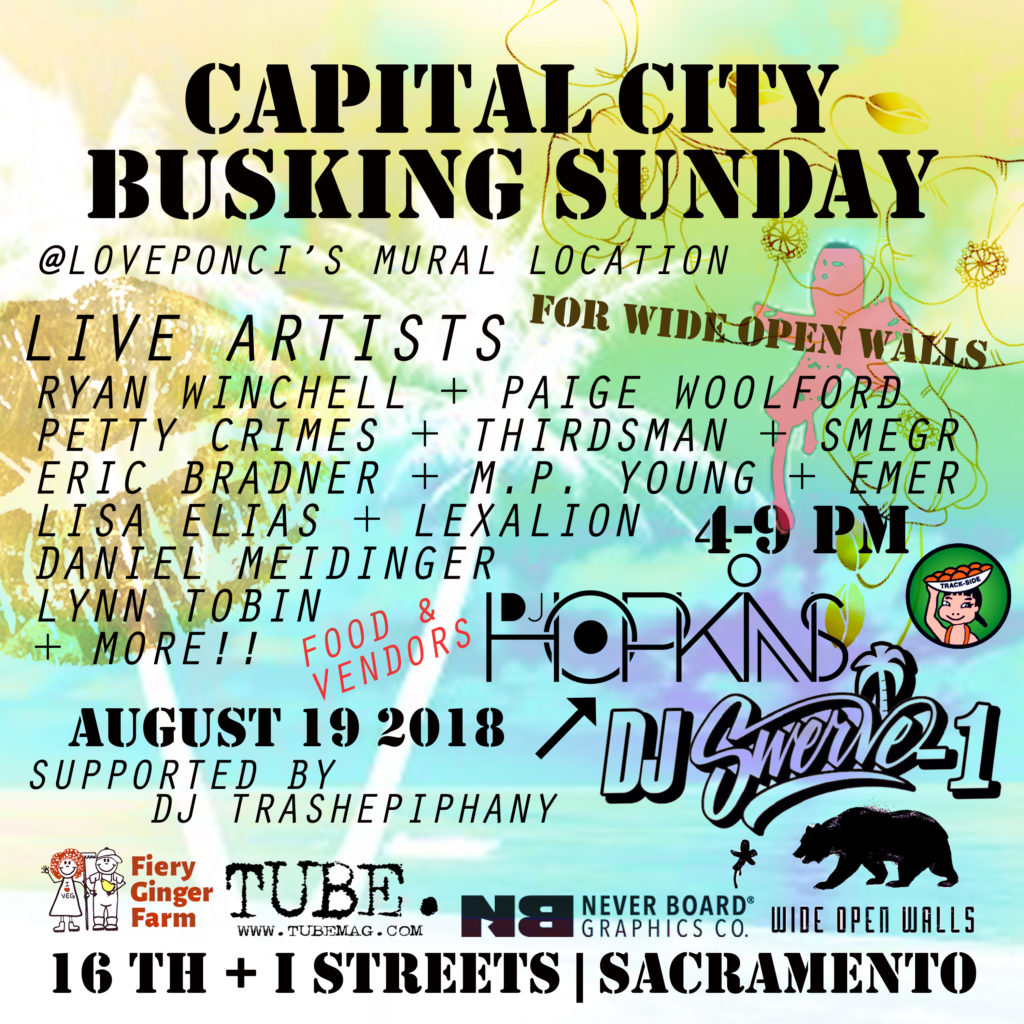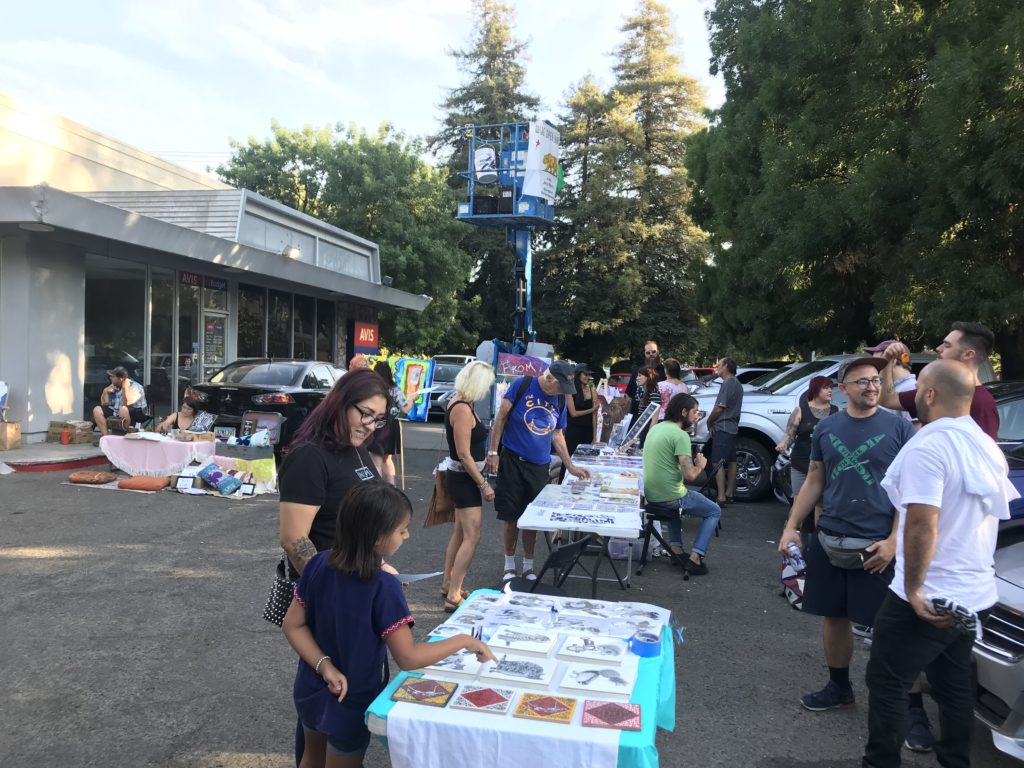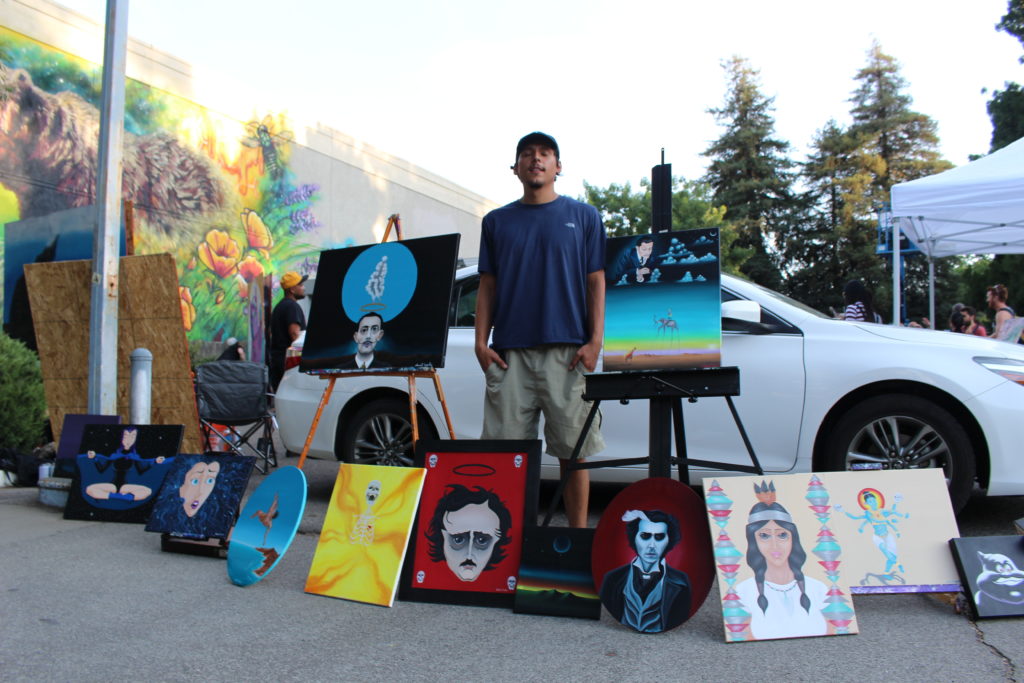 The day was open to all spectators, and drew a revolving crowd, which we estimated was somewhere around 400 people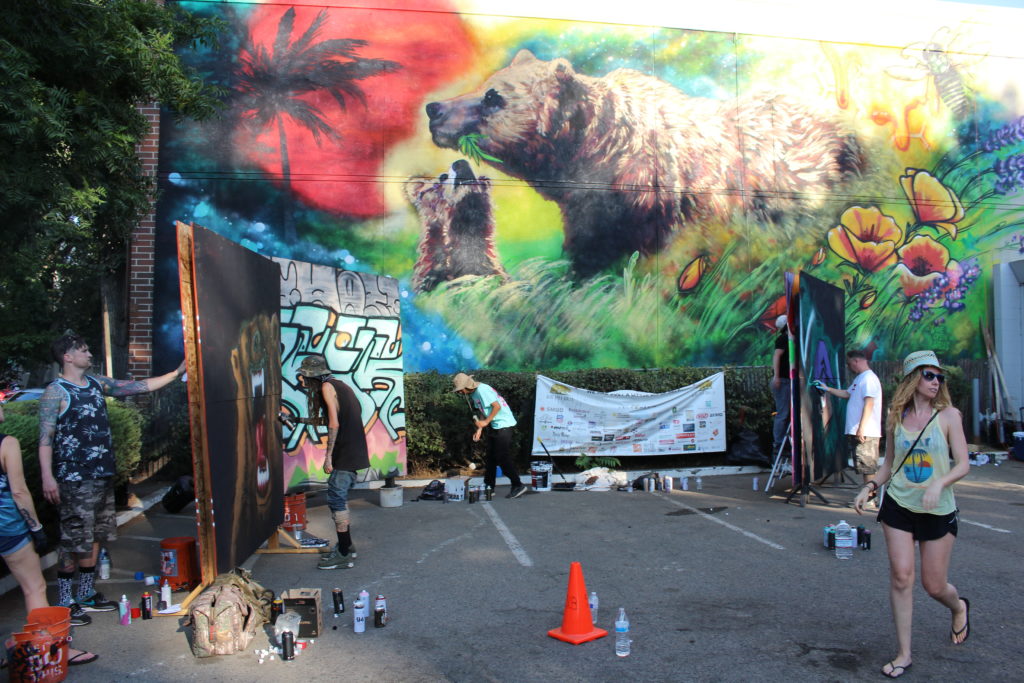 Artists Christi and DI Swerve, Smeg One from Tahoe, Gallery Trackside from Marysville, Ryan Winchell and Emer from Sacramento. are shown painting above.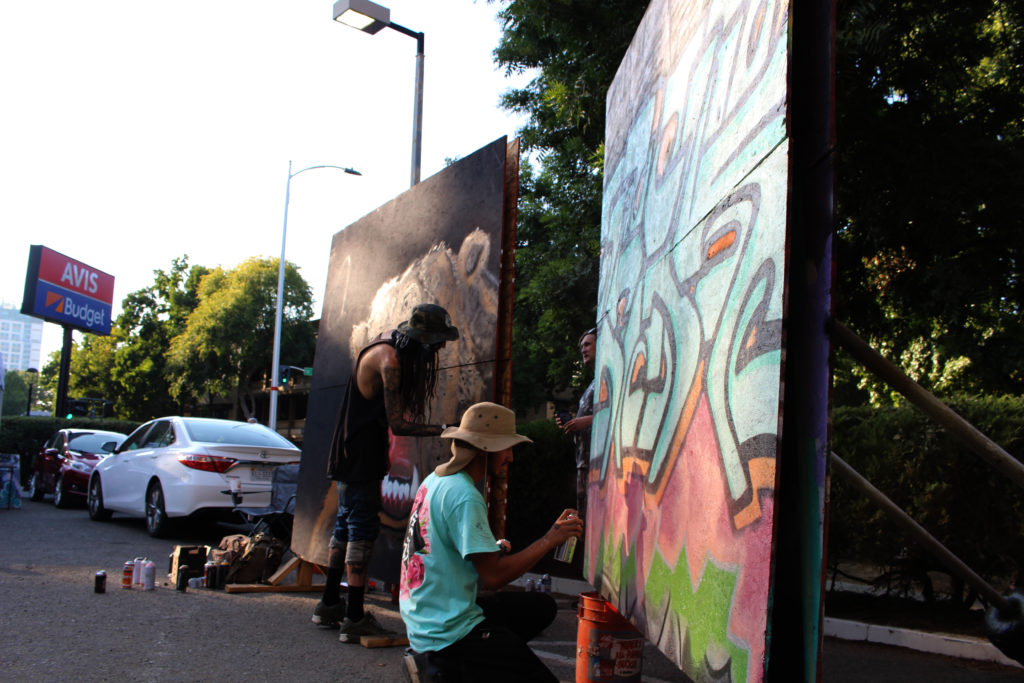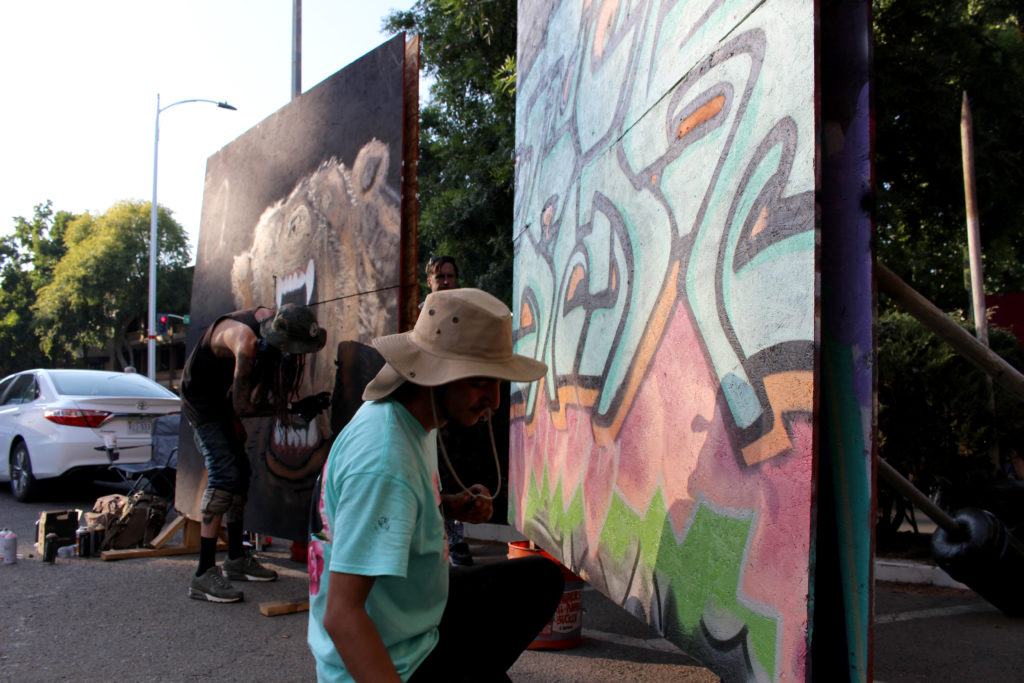 Smegr and Gallery Trackside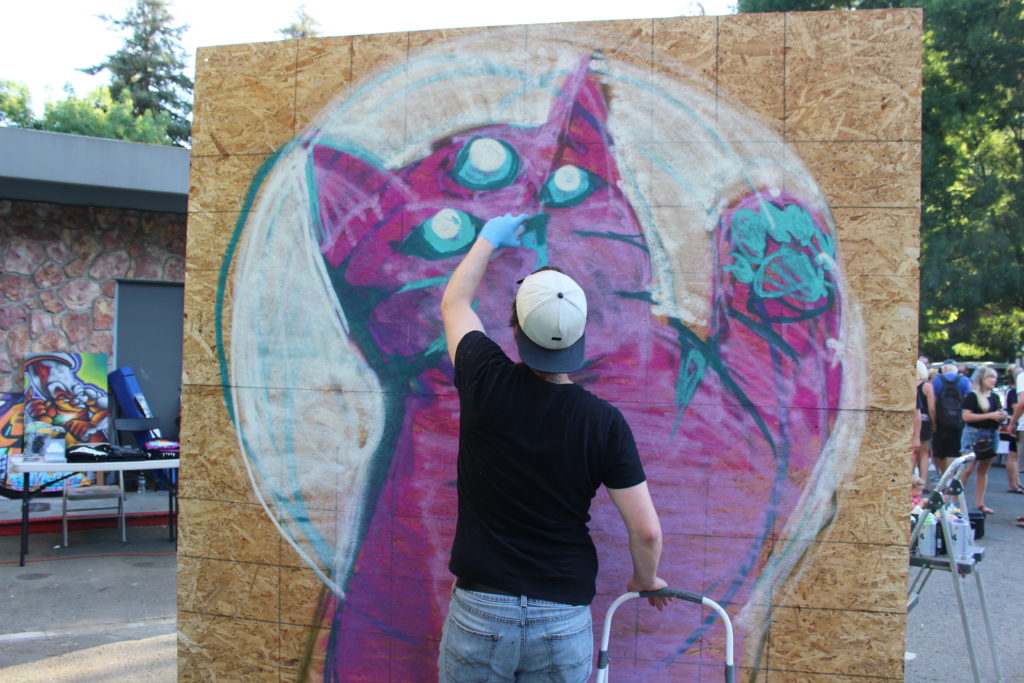 Ryan Winchell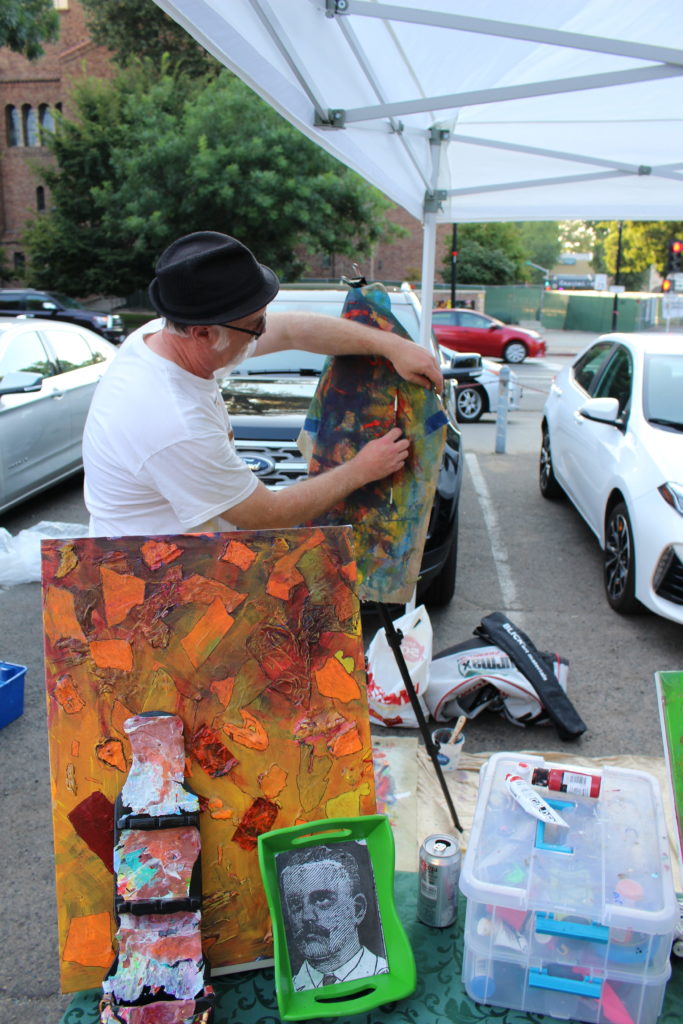 Sacramento artist Eric Bradner is a frequent supporter of the arts and often attends, as well as throws events for the public.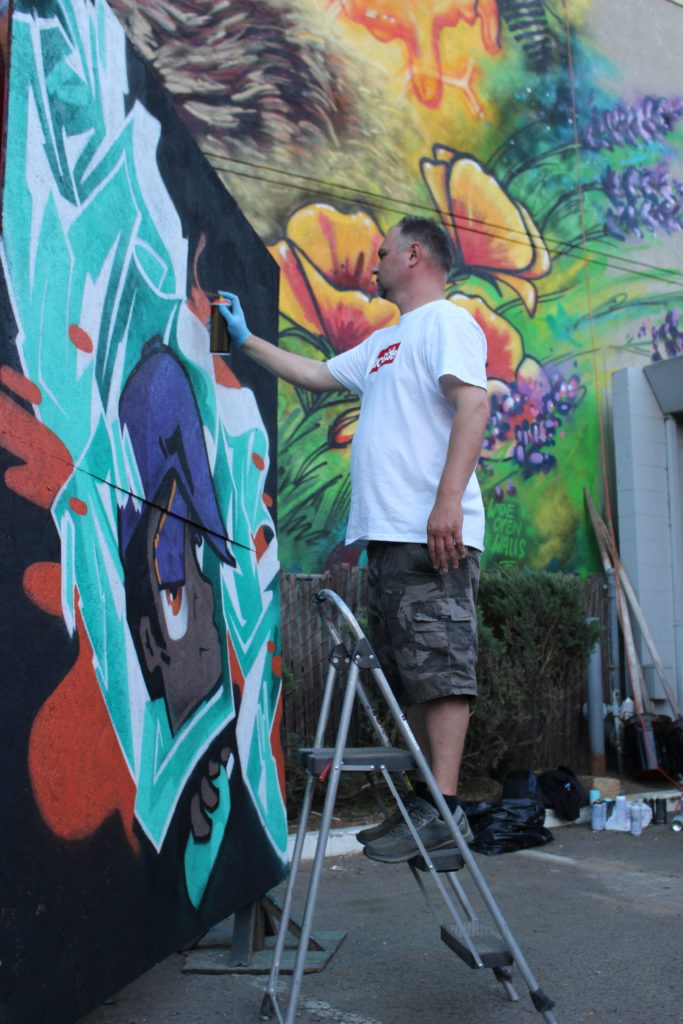 Emer, always bringing 100% to live painting events.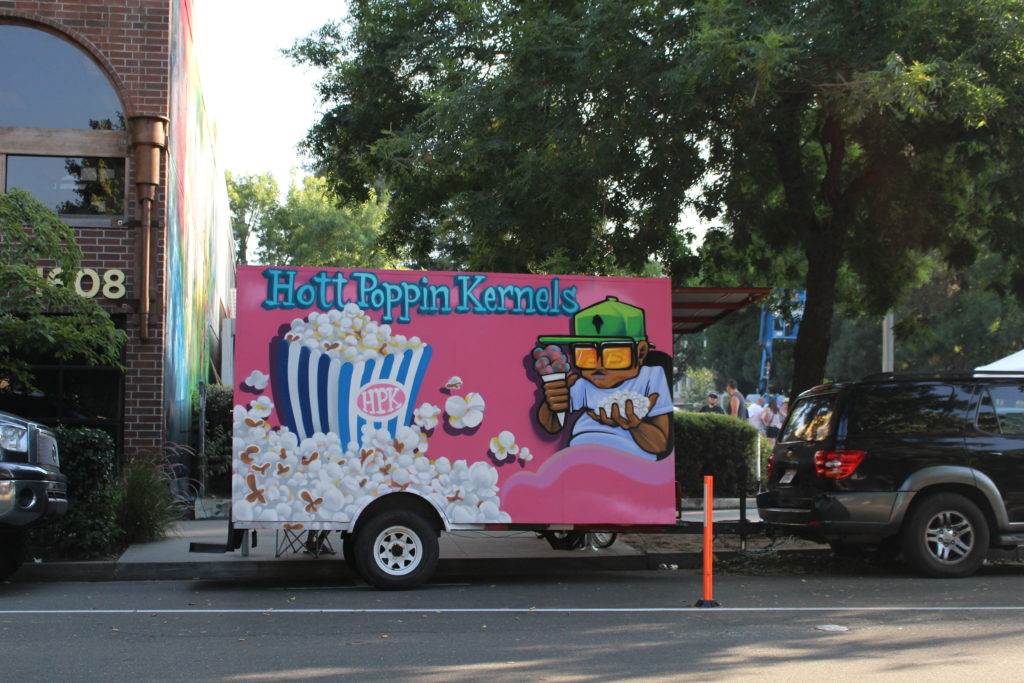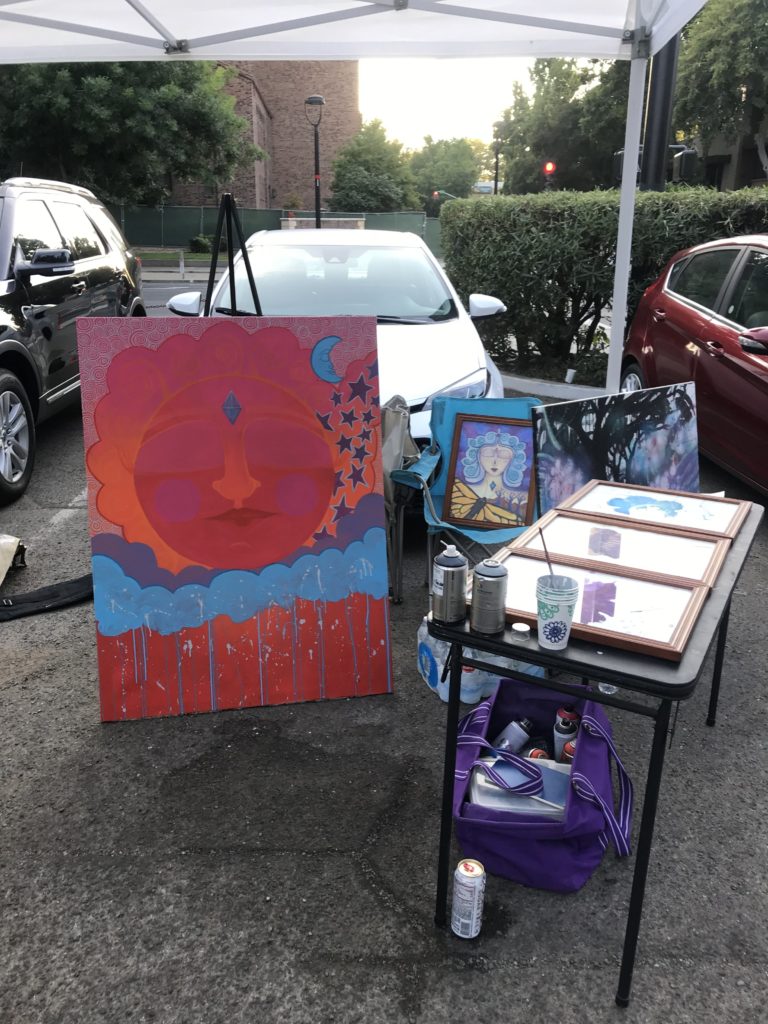 Artist Ten Blair from Neverboard Graphics in Sacramento paints murals and also holds workshops for children.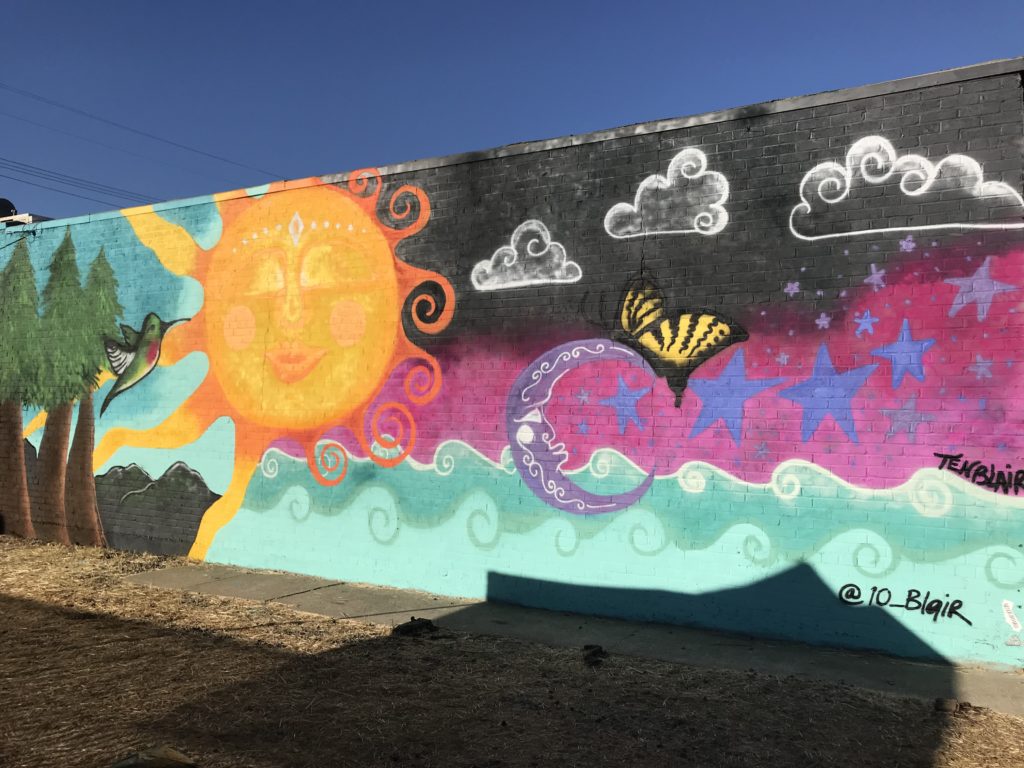 Separately from my event, Ten painted this for the WOW festival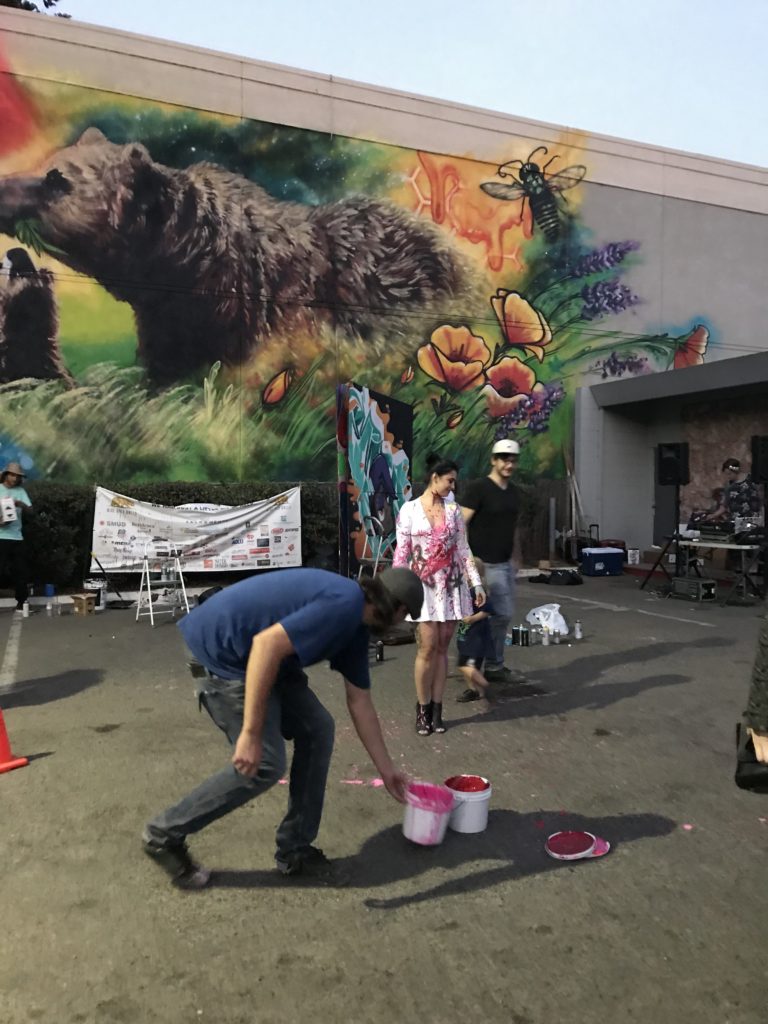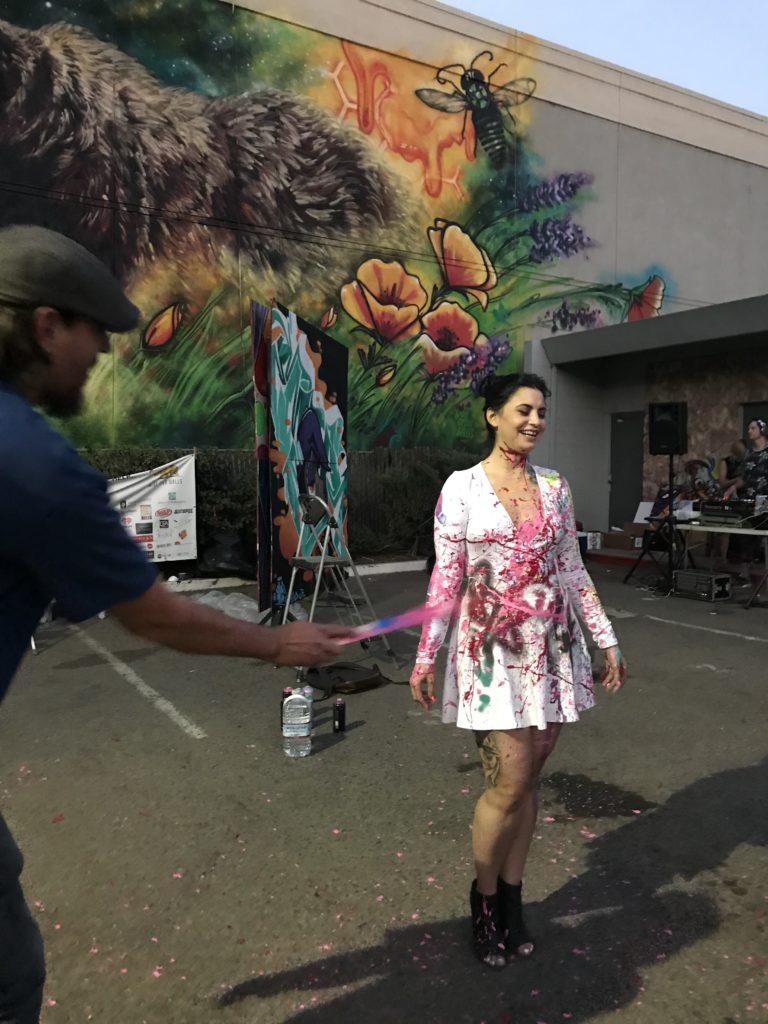 Ryan Winchell kicked off the live model painting on Chico-based stylist Perla, and everyone else got in on the collaboration.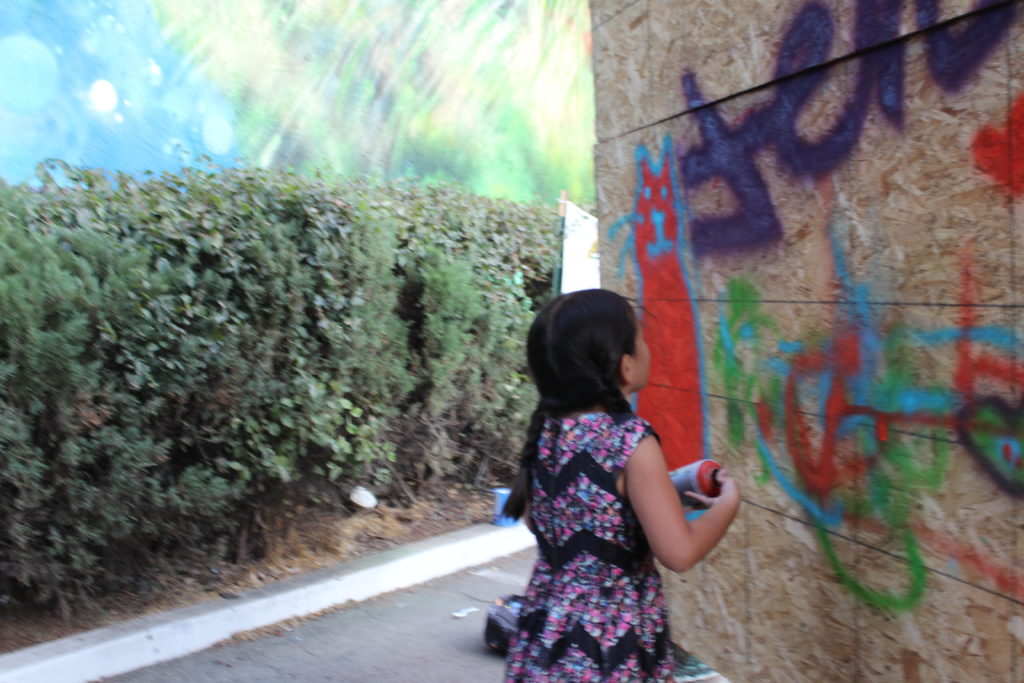 Little Johanna beginning her painting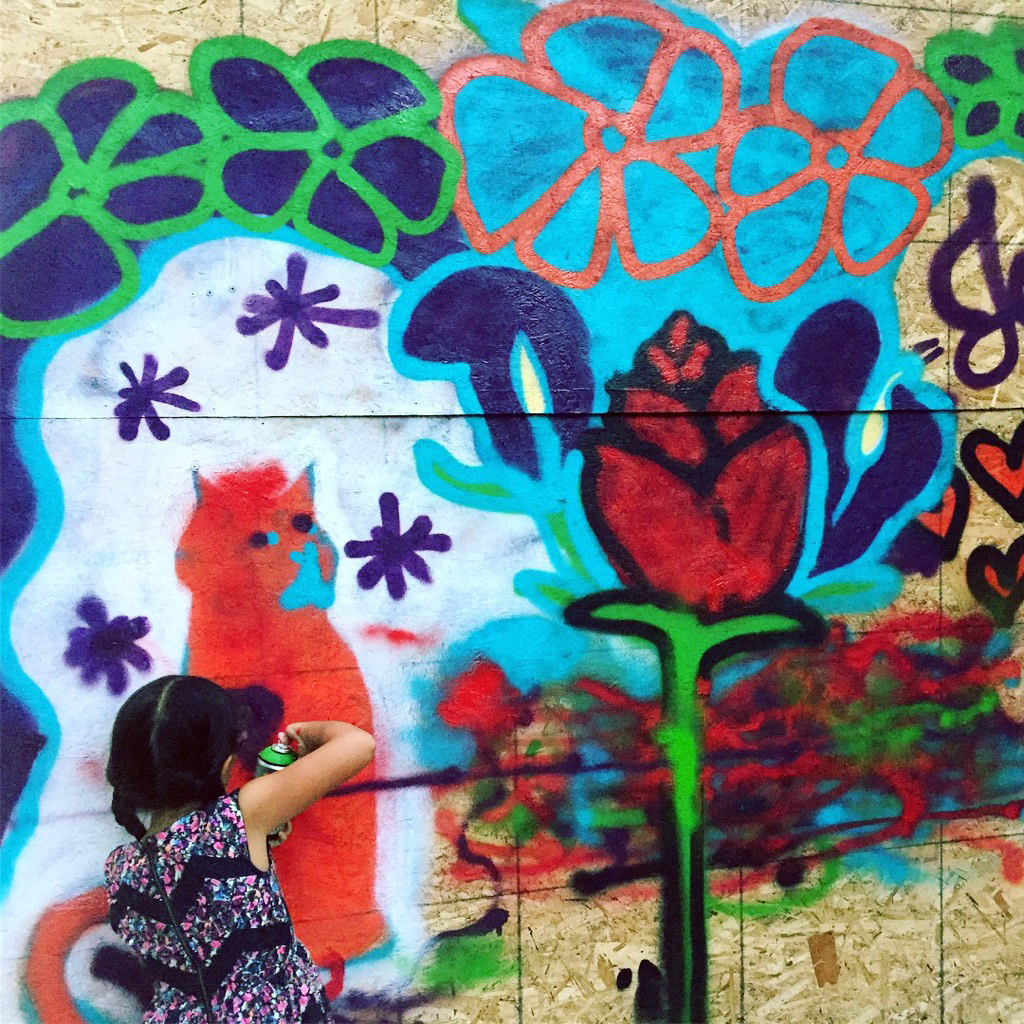 She caught on quickly!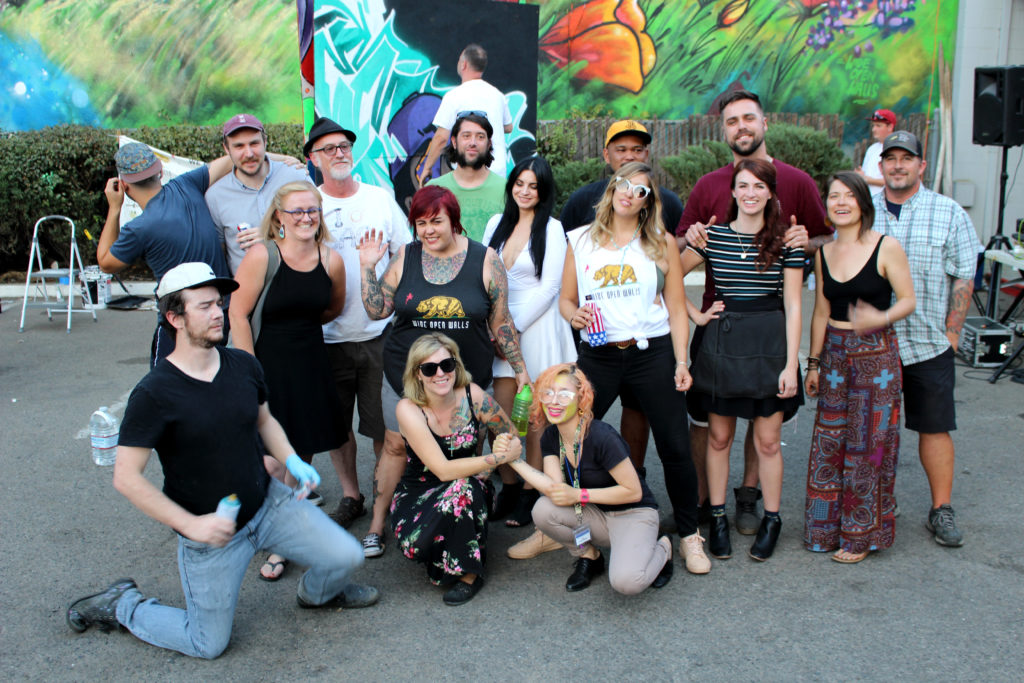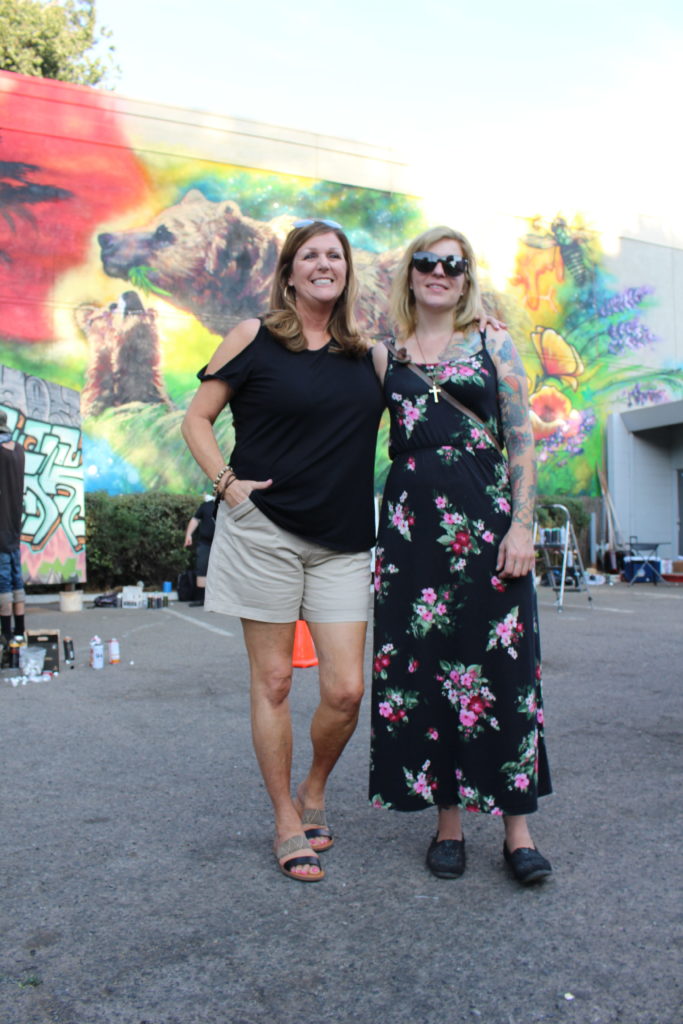 Danielle Ferroni from Visit Sacramento and Myself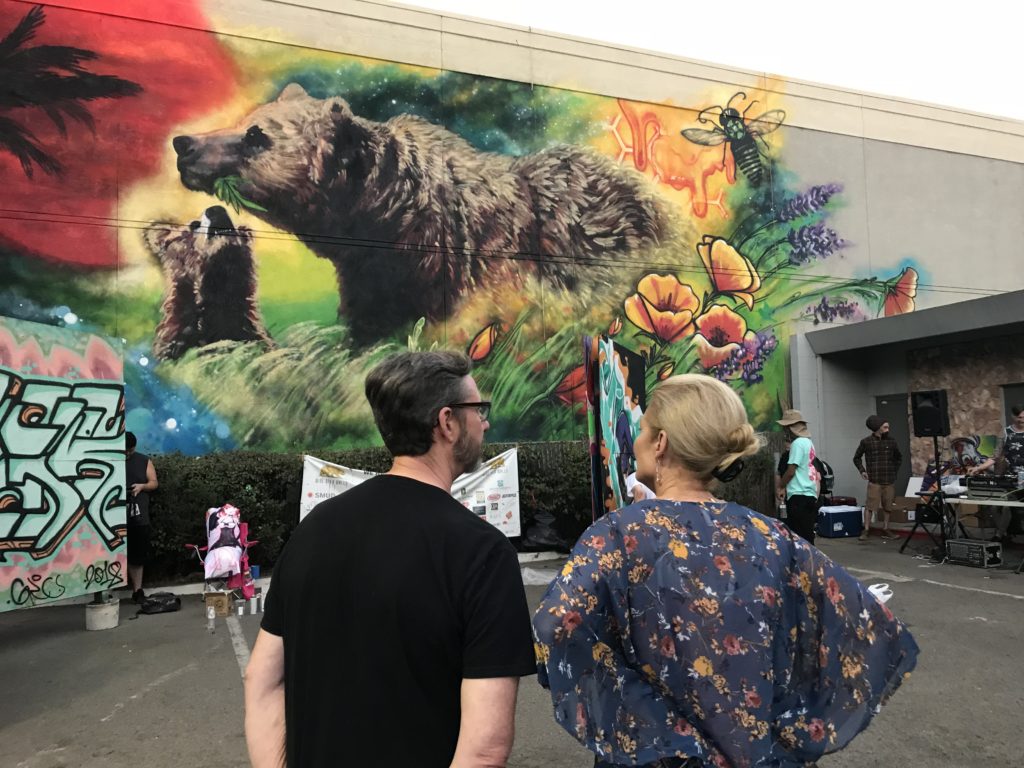 David and Anna Sobon observing the mural and enjoying Busking Sunday. David called shortly after leaving, and Anna had left her purse on the ground. He came back on a bicycle from his downtown home and it was right where they'd left it. I knew we had a good crew 😉
@WideOpenWalls #wideopenwalls
Special thanks: @visitsacramento #visitsacramento @behrpaint #behr @brandedarts #brandedarts @montana_colors @sprayplanet @chopemdownfilms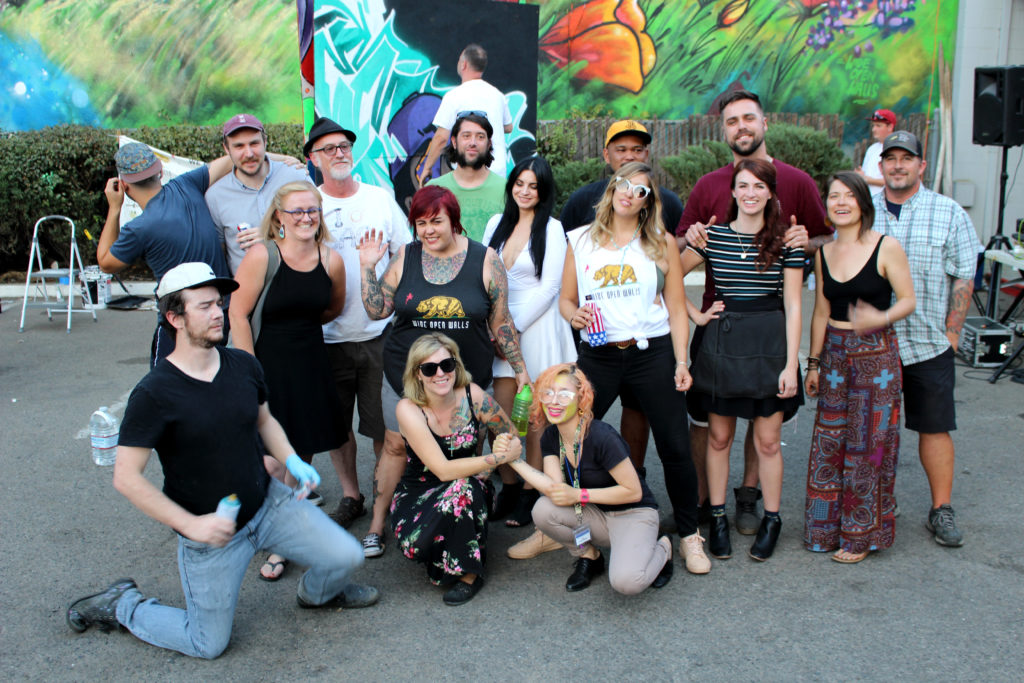 Thank you SO MUCH to everyone who came out to participate, enjoy our wall party, or take photos- Especially Joey Miller, Ten, and Gallery Trackside! We had such a good time!!  I wish I had awesome photos of EVERY ONE of you doing your thing!! I was just so busy and tired from painting alllll night.
It was so awesome to close down the mural project with a bang! I am so proud to be a part of this amazing community.
Thank you @visitsacramento for letting me paint a California themed mural on your wall, and special recognition to @dsaevents, Anna Sobon @brandedarts and @mowens521 of @wideopenwalls for putting together such an amazing event for our State Capital.
Busking Sunday Artists and Project Supporters: @katejgonzales, @behrpaint @sprayplanet @rhinokhan
@themicahabides @thirdsman @lexalion @_danielmeidinger @dark_rainbow_meracorn @miss_moth_design @spanishforpearl @salty__redhead @pettycrimes @possumvomit @djswerve1 @duchess_of_nada @djtrashepiphany @designingchris @boulevardskateshop @lynn.tobin @ericbradner_art @mountainliar @games_music_skating_crap @melissauroff @notreallyyourfriend @nikikangas @gallerytrackside @neverboard @karbear1986 @tubemag @fierygingerfarm @nicoleboller @teameley @jenpmeadows @original.mermaid @zaplipzach @sureena24 @areukidneyme @emerclothing_official, Allison @wideopenwalls, anyone who lent a hand or support, the homies @maveriquestylehouse @starrclymer The babe brigade, @mentalmorphisis @artprimoseattle @shannonmarlin @spanish_fly_hair_garage @crushedvlvt @candibirdsalon, my partner in crime, and my super awesome Dad. You guys are the BEST
**It's unclear who the photographer of my reference is, and I'd love an email letting me know if you do, so I can give credit and lead readers to their other work. Hello@loveponci.com
-Jenn Ponci